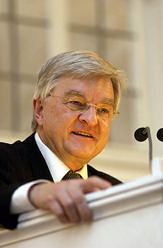 Chairman, Department of Neurology, University of Würzburg
Josef-Schneider-Str. 11, 97080 Würzburg, Germany
Born: 15.04.1945 in Biberach
Marital status: married to Regine Toyka-Blum, 2 children
Education & Academic posts
1964-1970 Medical School University of Munich
1970 MD thesis in Pediatric Endocrinology
1970-1974 Post-Doc, Pediatric Neurology, University of Munich
1974-1976 Post-Doc, Neuromuscular Disorders and Neuroimmunology, Johns-Hopkins-University
1976-1978 Resident in Neurology
1978-1979 Instructor in Neurology, Technical University Munich
1979-1981 Associate Professor, Department of Neurology, University of Düsseldorf(with tenure)
1982-1989 Professor of Neurology, Research Group Leader for Neurophysiology and Neuroimmunology, Head, Diagnostic Laboratories for CSF and Neuro-immunology
1990-present Professor and Chairman, Department of Neurology, University of Würzburg
1996-1998 Dean, Faculty of Medicine, University of Würzburg
1998-2004 Vice-Dean, Faculty of Medicine, University of Würzburg
2000-present Member, Senate of the University of Würzburg
2005-present Assoc. Vice-Dean, Faculty of Medicine
1988 - 2005 Short term Visiting Professorships at Johns Hopkins University, Baltimore, USA; National Hospital Queen Square, London, UK; University of Sydney, Australia

Selected Honours & Awards:
Special Award of the Myasthenia Gravis Foundation, USA
Heinrich-Pette Prize, German Neurological Society
Käthe-Hammersen MS Award, German MS Society
Corresponding Member, American Neurological Association
Corresponding Fellow, American Academy of Neurology (FAAN)
Honorary Member (Belgian, French, and Polish Neurological Societies)
Honorary Member, Society of Scholars, Johns Hopkins University
Fellow of the Royal College of Physicians, London (FRCP)
German Academy of Sciences Leopoldina

Project Management:
1981-1990 Coordinator and group leader, SFB 200, Düsseldorf
1984-1995 Founding Executive Board Member, European Neurological Society (ENS)
2000-2002 President, ENS
1986-2003 Project Co-Director, Hertie-Foundation
1990-1994 Speaker, Clinical Research Group for Multiple Sclerosis and Neuro-immunology (BMBF)
1993-present Chairman, Medical Advisory Board German MS Society
1994-1999 Speaker, Clinical Research Group for Motoneuron Disorders and Neurore-generation (DFG)
1995-2000 Member of Coordination Committees, EU-Program grants
1996-present Board member, Interdisciplinary Clinical Research Center (IZKF) University Hospitals, Member, Advisory Committees State and Federal Neuroscience Organizations
1997-2004 Member, Advisory Committee Alexander v. Humboldt Foundation
1997-present Member, Advisory Board Max-Planck Institute for Psychiatry
2000-present Vice-Speaker of the Coordination Committee SFB 581 "Molecular Models of Neurological Disorders"
1995-2001 Founding Executive Board Member, International Peripheral Nerve Society
2006-present External Member, National Austrian Advisory Committee, University of Innsbruck

Editorial work:
Associate Editorships and Editorial Board Memberships of various international scientific journals, Books and Encyclopedias
Selected original publications (Over 390 original contributions since 1974)
Toyka, K.V., D.B. Drachman, A. Pestronk et al. (1975)
Myasthenia gravis: passive transfer from man to mouse.
Science 190: 397-399 (Citation Classic)
Besinger, U.A., K.V. Toyka, A.P. Anzil et al (1981) Myeloma neuropathy: passive transfer from man to mouse. Science 213: 1027-1030
Hohlfeld, R., K.V. Toyka. K. Heininger et al (1984) Autoimmune human T lymphocytes specific for acetylcholine receptor. Nature 310: 244-246
Weishaupt, A., R. Gold, S. Gaupp, G. et al. (1997) Antigen therapy eliminates T cell inflammation by apoptosis: effective treatment of experimental autoimmune neuritis with recombinant myelin protein P2. Proc. Natl. Acad. Sci USA 94: 1338 ? 1343
Stienekemeier M, K Falk, O Rotzschke, A. Weishaupt, C Schneider, KV Toyka (2001) Vaccination, prevention, and treatment of experimental autoimmune neuritis (EAN) by an oligomerized T cell epitope. Proc. Nat. Acad. Sci. 98, 13872?7.
Giess R, B Holtmann, M Braga, T Grimm, B Müller-Myhsok, KV Toyka, M Sendtner (2002) Early onset of severe familial ALS with a SOD-1 mutation: potential impact of CNTF as a candidate modifier gene. Am. J. of Human Genetics 70, 1277?1286.
Linker RA, S Gaupp, M Mäurer, R Martini, B Holtmann, R Giess, P Rieckmann, KV Toyka, H Lassmann, M Sendtner, R Gold (2002) CNTF is a major protective factor in demyelinating CNS disease: a neurotrophic cytokine as modulator in neuro-inflammation. Nature Med. 8, 620-624.
Buchwald, B., R. Ahangari, A. Weishaupt, K. V. Toyka (2002). Intravenous immunoglobulins neutralize blocking antibodies in the Guillain-Barré syndrome.
Ann. Neurol. 51, 673 - 680
Martini R, KV Toyka (2004) Immune-mediated components of hereditary demyelinating neuropathies: lessons from animal models and patients. Lancet Neurol. 3, 457-65
Kleinschnitz C., M. Bendszus, M. Frank, L. Solymosi, K.V. Toyka, G. Stoll (2003)
In vivo monitoring of macrophage infiltration in experimental ischemic brain lesions by magnetic resonance imaging. J. Cereb. Blood Flow Metabol. 23 : 1356 - 1361
Buchwald B, R. Ahangari, A. Weishaupt, K.V. Toyka (2005)
Presynaptic effects of immunoglobulin G from patients with Lambert-Eaton myasthenic syndrome: their neutralization by intravenous immunoglobulins.
Muscle Nerve. 31,487 - 494
Reinhardt M, P. Hauff, R. A. Linker, A. Briel, R. Gold, P. Rieckmann, G. Becker, K. V. Toyka, M. Maurer, M. Schirner (2005). Ultrasound derived imaging and quantification of cell adhesion molecules in experimental autoimmune encephalomyelitis (EAE) by Sensitive Particle Acoustic Quantification (SPAQ).
Neuroimage 27,267-278.
Sommer, C, A. Weishaupt, J. Brinkhoff, L. Biko, C. Wessig, R. Gold, K.V. Toyka (2005).Paraneoplastic stiff-person syndrome: Passive transfer to the rat with IgG antibodies to amphiphysin. Lancet 365,1406 - 1411
Stasiolek M, Bayas A, Kruse N, Wieczarkowiecz A, Toyka KV, Gold R, Selmaj K. (2006). Impaired maturation and altered regulatory function of plasmacytoid dendritic cells in multiple sclerosis. Brain 129,1293-1305